Volume 32(1): Travel and Tourism. Navigating Changes and Challenges in a Post-Pandemic World
Abstract
We proudly welcome you to our prestigious scientific journal, Turistica - Italian Journal of Tourism. This publication represents a beacon of knowledge in the vast universe of tourism, offering a unique opportunity to explore the challenges, innovations, and trends in this ever-changing industry. Turistica is a publication of great tradition and prestige in tourism studies. Founded over thirty years ago by Prof. Emilio Becheri, the journal has pioneered in promoting high-quality research and providing a platform for exchanging ideas between academics, researchers, and tourism professionals. His legacy of excellence continues to be our strength. We are aware of the importance of the international perspective on tourism. For this reason, our journal is published in English, allowing researchers, scholars, and professionals worldwide to access our content and contribute to the global discussion on tourism. Turistica is a journal open to all who share our interest in tourism. We welcome contributions from emerging researchers, industry experts and professionals eager to share their findings, innovative solutions, and policy approaches. The diversity of perspectives enriches our debate. I am honored to be president of SISTUR, and I guarantee my enthusiasm and commitment to directing this journal, allowing us to deepen our understanding of tourism and contribute to its sustainable growth. Our first issue is dedicated to the theme of resilience in tourism, a topic of great importance in a world that continues to be plagued by challenges and changes. This is just the beginning of our journey, and we expect to explore many other crucial issues in the coming issues. We invite you to join us on this exciting journey of knowledge and discovery. Your voice is crucial to the journal's success. By contributing your articles, research, and experiences, we can all help shape the future of tourism. We look forward to working with you and exploring the many facets of tourism through the pages of Turistica - Italian Journal of Tourism.
Prof. Fabrizio Antolini
SISTUR - President
TURISTICA - Editor in Chief
Introduction
Welcome to the "Tourism Resilience" special Italian Journal of Tourism issue. In a world marked by dynamic changes, from the challenges posed by climate change to the recent disruptions caused by the global pandemic, the tourism industry is continually evolving to adapt and recover. This special issue focuses on various aspects of tourism resilience, drawing insights from research. The open article Resilience Frameworks in Tourism Studies provides a literature review of resilience frameworks. A comprehensive overview of the studies in this field is provided by summarising key findings and research directions related to tourism resilience. This review is a valuable resource for future research on resilience in the tourism sector. The following article examines cultural routes as social innovation projects that promote tourism development in marginal areas. Cultural routes are shown to have the potential to build resilience, and their role in preserving cultural heritage, fostering community engagement, and driving economic growth is highlighted. Challenges in effectively implementing these routes are also identified in the study. The concept of authenticity in historical art cities is explored in Authenticity in Historical Art Cities. The study examines the correlation between authenticity, cultural motivation, and loyalty, highlighting how mass tourism can threaten authenticity and be employed as a strategy to build resilience in heritage cities. Destination managers can benefit from the valuable insights the research provides, which aim to preserve cultural identity. Sustainable Tourism and Resilience are connected. A Composite Index for European Destinations comprehensively reviews sustainable tourism indicators in European Union (EU) countries. The importance of sustainability in tourism and its impact on destination competitiveness are highlighted. This study presents a framework for policymakers and stakeholders to make informed decisions on resource allocation and policy development, emphasizing the importance of tailored approaches to address specific destination challenges. Another investigation point is the proximity tourism in Spain, focusing on how tourist flows changed during the COVID-19 pandemic. It introduces the concept of proximity tourism, emphasizing its relevance in a post-pandemic world and its potential to support local destinations. The study utilizes an Origin-Destination Matrix approach to analyse tourism dynamics within Spain. The Regenerative Tourism Approach for Marginalized Areas explores the concept of regenerative tourism and its potential to transform marginalized areas. By examining two best practices in Southern Italy, the paper illustrates how regenerative tourism can create net positive effects by reinvigorating local communities and economies. It emphasizes these practices; role in enhancing such areas tourist attractiveness. Finally, the last contribution focuses on the influence of socio-demographic factors such as nationality, age, gender, and education on tourists' attachment, involvement, loyalty attitudes, and environmentally responsible behaviour toward a cultural Italian destination. It sheds light on how these factors affect tourists; perceptions and behaviour, providing valuable insights for cultural tourism marketing and management. Throughout this special issue, you will find diverse perspectives and insights on tourism resilience, ranging from sustainability and socio-demographic influences on regenerative tourism practices to the importance of authenticity in heritage cities. We hope these contributions will inspire new approaches and strategies to navigate the ever-changing landscape of the tourism industry.
Prof. Giovanni Ruggieri
Special Issue Editor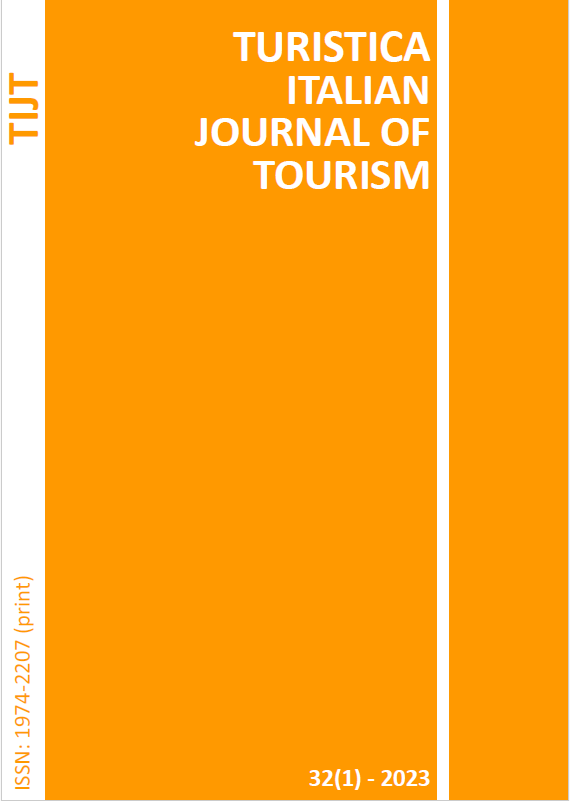 Downloads
Section
Academic Research Paper
License
Copyright (c) 2023 Turistica - Italian Journal of Tourism
This work is licensed under a Creative Commons Attribution-NonCommercial-NoDerivatives 4.0 International License.
Turistica - Italian Journal of Applied Tourism (ISSN:1974-2207) applies the Creative Commons Attribution (CC BY) license to everything we publish. Developed to facilitate Open Access, this license lets authors maximize the impact or their research by making it available for anyone, anywhere in the world to find, read and reuse. Under this license, authors agree to make articles legally available for reuse, without permission or fees, for virtually any purpose. Anyone may copy, distribute, or reuse these articles, as long as the author and original source are properly cited.