Evaluating Sustainable Tourism: A Composite Index for European Destinations
Keywords:
sustainable tourism indicators, European Union, destination competitiveness, Mazziotta-Pareto Index
Abstract
This paper focuses on the analysis of sustainable tourism indicators for the 27 European Union (EU) countries to address the challenges faced by the tourism sector. The impact of sustainable tourism indicators on destination competitiveness was evaluated using the EU Tourism Dashboard, a scheme funded by the European Commission. The Mazziotta-Pareto Index was used to construct the indicator of sustainability by incorporating the three pillars of indicators: Environmental impact, Digitalisation, and Socio-economic vulnerability. The proposed approach provides greater tractability and flexibility for decision-makers to adjust the number of indicators to meet specific case conditions. The sustainable tourism indicators aim to provide critical information for resource allocation and policymaking in the conservation of tourism sites, as well as improving the welfare and inclusiveness of local communities. The findings of the analysis highlight significant disparities among destinations in terms of the examined indicators, emphasizing variations in sustainability profiles and performance within the tourism sector. These disparities underscore the need for personalized and targeted approaches to address the specific challenges and opportunities faced by each destination in achieving sustainable tourism development. Furthermore, the proposed ranking system, updated at regular intervals, can enhance the image and reputation of European areas as high-quality and sustainable destinations, attracting increased tourism demand. Additionally, the ranking system can foster knowledge sharing and the adoption of benchmarking practices, incentivizing countries to maintain and improve their position in the ranking. This work contributes to addressing the evidence gap in tourism sustainability policymaking and provides a comprehensive framework for the development of sustainable tourism analysis in the EU context.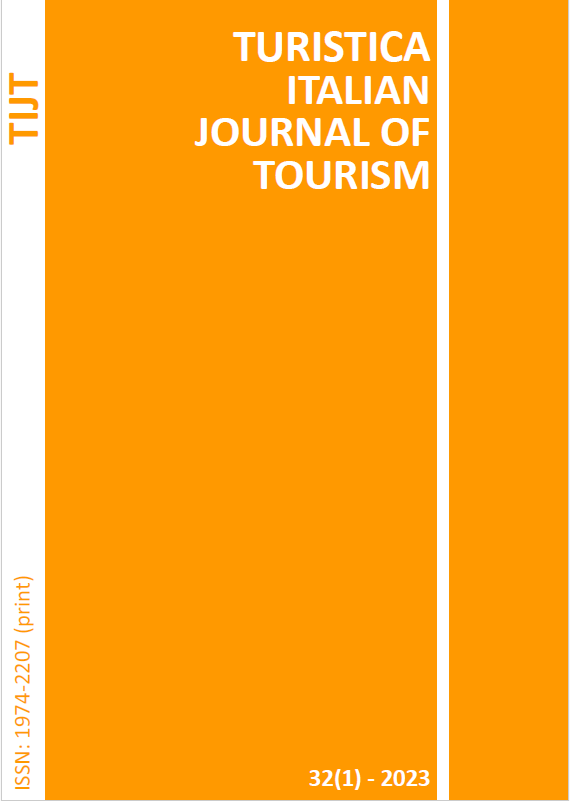 Downloads
Section
Academic Research Paper
License
Copyright (c) 2023 Turistica - Italian Journal of Tourism
This work is licensed under a Creative Commons Attribution-NonCommercial-NoDerivatives 4.0 International License.
Turistica - Italian Journal of Applied Tourism (ISSN:1974-2207) applies the Creative Commons Attribution (CC BY) license to everything we publish. Developed to facilitate Open Access, this license lets authors maximize the impact or their research by making it available for anyone, anywhere in the world to find, read and reuse. Under this license, authors agree to make articles legally available for reuse, without permission or fees, for virtually any purpose. Anyone may copy, distribute, or reuse these articles, as long as the author and original source are properly cited.