Resilience frameworks in tourism studies: a literature review
Keywords:
resilience, literature, review, tourism
Abstract
In recent years, there has been an increased interest in studies on economic resilience. There have been several contributions from scholars who have applied theoretical frameworks on various social and economic fields. Among these is the subject of tourism. Using a traditional narrative style, this paper summarises the main findings concerning resilience and tourism that have been published in academic journals over recent years and it provides some critical reflections about the research directions. For the selection of papers in this literature review, the author has considered those studies that have analysed the relationships between tourism and resilience within a tourist destination, in a framework of resistance and / or a recovery from shocks. The main results of this study will allow for one to acquire a complete picture of the studies in this line of research. This may be useful for future studies on resilience in the tourism sector.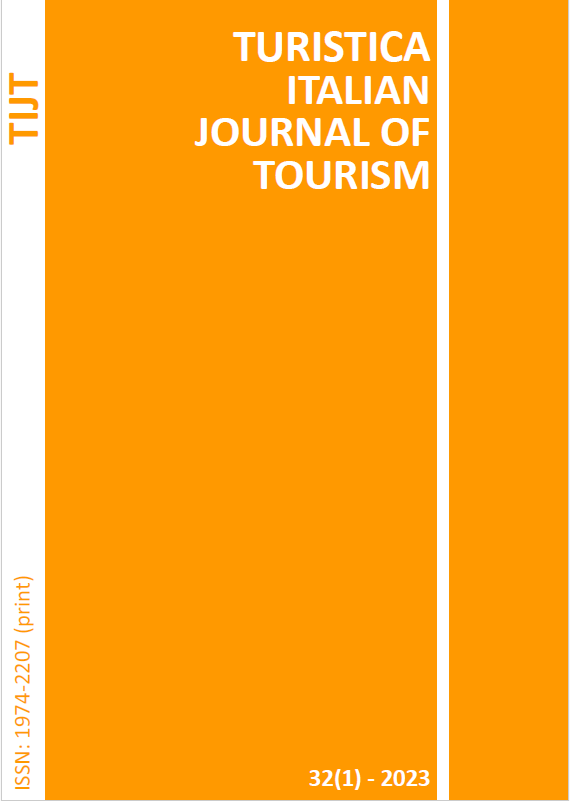 Downloads
Section
Academic Research Paper
License
Copyright (c) 2023 Turistica - Italian Journal of Tourism
This work is licensed under a Creative Commons Attribution-NonCommercial-NoDerivatives 4.0 International License.
Turistica - Italian Journal of Applied Tourism (ISSN:1974-2207) applies the Creative Commons Attribution (CC BY) license to everything we publish. Developed to facilitate Open Access, this license lets authors maximize the impact or their research by making it available for anyone, anywhere in the world to find, read and reuse. Under this license, authors agree to make articles legally available for reuse, without permission or fees, for virtually any purpose. Anyone may copy, distribute, or reuse these articles, as long as the author and original source are properly cited.